**Announcement**
We Remodeled Our Entire Showroom & Added 5 New Flagship Kitchens Displays
Re-New's Chandler Cabinet Re-Facing Services:
We understand that one size doesn't fit all. This is why our interior designs come in a variety of options to tantalize individual palettes. We optimize our bathrooms, offices, and kitchens to complement different styles and focus on what the customer wants to see at the end. Our team lives to work for YOU to create the most suitable solutions for your commercial, business, or home needs. Big or small, we will work to meet your budget!
Licensed, Accredited, Convenient:
- Bonded, Licensed and Insured– ROC#293053
- Re-New Cabinets has an A+ Rating as a BBB Accredited Business
- Authorized REV.A. SHELF dealer with the newest innovations in storage solutions
- We provide all the services and products you may need for your project
Customers Come First:
The customer is our number one priority here at Re-New Cabinets and we hold our customers and their projects in high regard. This is why our artisans and technicians keep you in the loop at every stage of your project.
Our team consults before any changes or development on a project, and all the information concerning the project is relayed, to help prepare accordingly for your installation.
Re-New's Chandler Cabinet Refacing Services & More
Not only do we specialize in refacing cabinetry, but we offer many other services that help transform interior spaces.
Cabinet Refacing for Kitchens, Bathrooms, and more.
Our cabinet refacing professionals will evaluate your space and work with you to determine the best possible design options regarding color, door style, drawer style, and much more.
We can work on kitchens and bathrooms of all sizes, giving new life to the entire room – truly creating that "WOW" factor. After your project is completed, it will be hard to tell that it was the same room from before!
It is much cheaper to re-face cabinets than to replace them. Call Re-New Cabinets Chandler to discover the incredible value that re-facing can offer your home today!
Before and After Cabinet Refacing Projects

This gallery features before and after pictures of our work. It includes re-faces, re-stains, bathroom projects, custom projects, and more! Some photos show projects mid-process. Feel free to request a free in-home estimate today!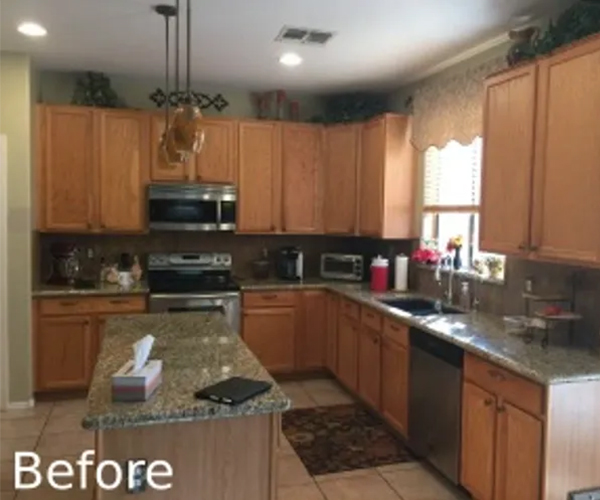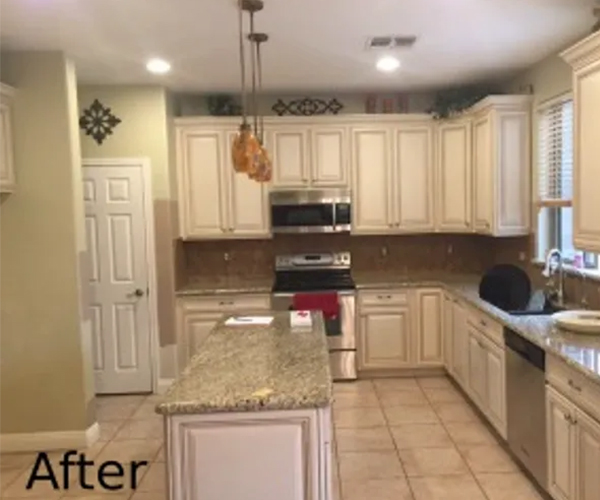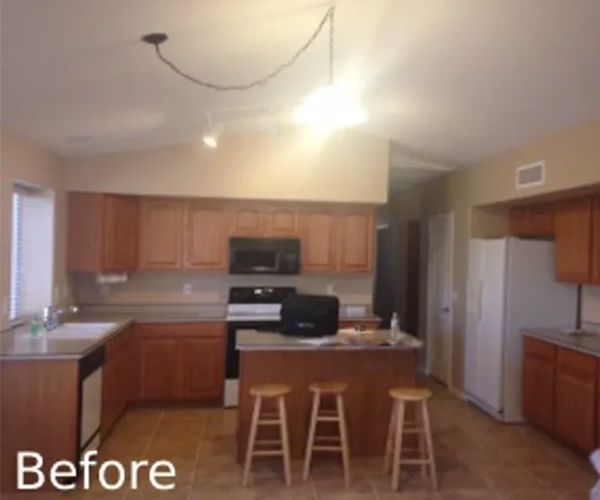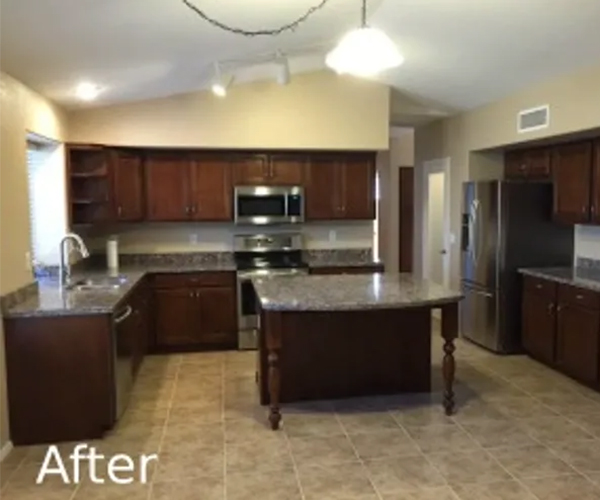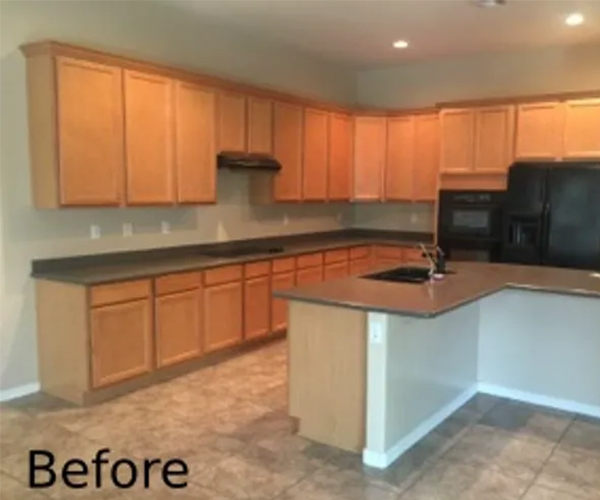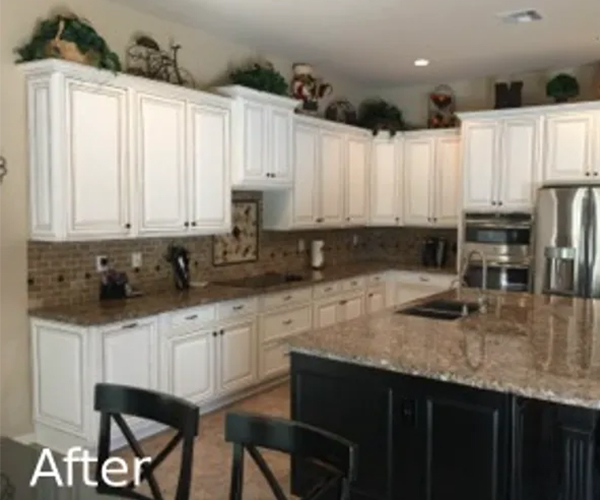 Cabinet Refacing FAQ's
How Long Do Refaced Cabinets Last?
If routine measures are taken and cabinets are treated well, cabinet refacing can last for a lifetime. You can expect to enjoy your refinished cabinets up to 20 years under regular kitchen use and conditions. Our team can educate the industry's preferred care methods to extend the longevity of each cabinet.
What Is The Difference Between Refinishing and Refacing Cabinets?
Technically, cabinet refacing and resurfacing are very similar. In essence, cabinet refacing consists of replacing all the visible parts or surfaces of the cabinets when they are closed or in a non-used state. All cabinet doors, hardware, drawer fronts and even drawer boxes get replaced. With a combination of laminates or thin wood veneers, all end panels, face frames, and toe kicks are refaced as well.
Re-New Cabinets refinishing Chandler AZ simply requires that your drawer boxes are in good condition. This is the key requirement for re-facing to take place.
Is Refinishing Kitchen Cabinets Worth It?
Cabinet refacing is a great option for those who do not want to put their kitchen through the full remodeling process. Refacing is an easy, 3-5 day process that still allows the use of your kitchen after each day. In addition, because the process utilizes your current cabinet boxes, there is much less cost involved than if you were replacing your cabinets entirely. In addition, Re-New's refacing package includes new hardware! This is another great way to update outdated cabinets. Through this process, we can help you give your cabinets the perfect color and a fresh new look that will match and enhance any living space. Just contact us today for the most experienced cabinet refinishing Chandler AZ company!
Can Refaced Cabinets Be Refaced Again?
Yes, you can reface cabinets to fit your evolving tastes and style. Even though you will need the help of a professional, it's possible to do it repeatedly. Unless your kitchen cabinets aren't in good shape, it's a great way of making them new again after frequent use.
However, don't reface your cabinets if:
The cabinet box is in bad shape and isn't sturdy
You want to remodel or completely change the design and layout of your kitchen
Your kitchen cabinets are metallic
More Home Improvement Services

Kitchen Remodeling
Kitchen remodeling comes with many benefits. It will make your home more accessible while increasing the value of your property. Our technicians and artisans will spend sufficient time on the foundation process to ensure that they determine the problems in your existing kitchen and work around them. Let us personalize your space to build your dream kitchen.

Bathroom Remodeling
We are skilled at adapting dated bathrooms to fit our clients' current needs. Our professionals will advise you on the best improvements you can make to ensure that you take advantage of space, storage, and the functionality of your bathroom for years to come.

Granite and Quartz Countertops
Depending on your product of choice, we will provide premium product options that fit your budget. We also offer pricing beforehand to ensure that our client is aware of the costs of these products.

Custom Entertainment Centers
We understand that entertainment forms the leisure centerpiece of a home. Whether you want a modern entertainment spot with a freestanding system or a more robust center with a custom built-in wall unit, we understand that art should be in the detail. We will advise you on the best accessories that complement your style as we build the entertainment center you've always wanted.

Custom Bedroom Sets
People have different style tastes, and we're here to ensure that yours comes alive with our custom bedroom sets. Our professional artisans will customize bedroom furniture to meet your style and outfit your bedroom with the design of your choice, all while working around your budget.

Custom Home Offices
When it comes to home offices, our artisans and craftsmen understand that no one design can fit a general population. This is why they will take the time to understand your goals and set up solutions that'll get your home office organized. We will help you make work fun by turning a drab space into an oasis suitable for the professional that you are.

Laundry Room
No need to worry if you don't have a big space to call your laundry room. We will work with the smallest spaces to make them the most organized and efficient areas within your home. Our inspiration is the need to help you live the most comfortable life.

Home Bars
Whether you want to turn a small portion of your kitchen into a home bar or you've designated space for one, our bar layouts will encourage inspirational conversation for visitors to your home.

Custom Cabinetry
Does your dated cabinetry wear you out? Are you running out of space? Re-New Cabinets can add additional storage with unique solutions that fit into any corner and space of your room.
About Chandler, AZ
Chandler is a city in Arizona named after the first vet surgeon Dr. A.J. Chandler who settled in Arizona territory in 1891. Chandler began in 1912 but was incorporated as the Town of Chandler in 1920. Dr. A.J Chandler was the first mayor of the town.
The city is famous for the annual Ostrich Festival and parks such as the Desert Breeze Park, Tumbleweed Park, and the Veterans Oasis Park. Many landmarks around the town and within DownTown Chandler are historical, and some are listed in the National Register of Historic Places. Chandler has many recreational activities offered to visitors and locals of all interests and ages. Living in Chandler, Arizona is a great place to live.
The special events held every year in the town, such as the sixth annual Day of Play and the Fourth of July Fireworks Festival, attract hundreds of people. There's also the Arizona Railway Museum, where lovers of history can get their thirst for knowledge quenched.
Cabinet refacing Chandler AZ is becoming more popular as it costs a fraction of replacing cabinetry and the labor behind it. However, with Re-New Cabinets, there's no need to live with a dull  or out-dated kitchen. In most cases, cabinet refinishing AZ is the first home improvement project that many people undertake. This is because the kitchen is the center of all activities that happen in the home, and the energy it gives off will reflect on the rest of your home.
Jump-Start Your Project Today

Re-New Cabinets Chandler AZ
Finding the right re-facing cabinet style and color can instantly enhance interior spaces.
We make sure that our clients have everything they need, including the relevant information and range of options to suite their interior goals.