**Announcement**
We Remodeled Our Entire Showroom & Added 5 New Flagship Kitchens Displays
Re-New's Scottsdale Custom Cabinet Re-Facing Services:
Need a hand in customizing and upgrading your interior bathroom and kitchen cabinets and cabinet doors? Re-New cabinet refacing Scottsdale transforms outdated interior spaces by customizing, remodeling, refacing, and refinishing cabinets, countertops, bedroom sets, home offices, home bars, laundry rooms, entertainment centers, and much more. Offering a wide range of full-scope kitchen, bathroom, and functionality planning customized to meet your needs.
Licensed, Accredited, Convenient:
- Licensed, insured, and bonded – ROC#293053.
- A+ Rating as a Better Business Bureau (BBB) Accredited Business.
- Authorized dealer for REV.A.SHELF, proving to be a pioneer in innovations for storage solutions.
Re-New Cabinets is a cabinet refacing Scottsdale contractor company that is your ONE-STOP SHOP for full-scope interior services such as kitchen, bathroom, & customized functionality planning
Customers Come First:
You are a valued customer. Re-New Cabinets guarantees to provide a high level of customer satisfaction by giving you constant updates on the progress of your home improvement project.
Our team consults before any changes or development on a project, and all the information concerning the project is communicated, to help prepare accordingly for your installation, and beautiful transformation.
Re-New's Scottsdale Cabinet Refacing Services & More
Not only do we specialize in refacing cabinetry and cabinet doors in Scottsdale, but we offer many turnkey solutions that help transform any-size interior space.
Cabinet Refacing for Kitchens, Bathrooms, and More.
We give you a myriad of options to choose from when it comes to selecting the best interior design for your home. Need to customize your kitchen, bathroom, bedroom, or office? We are the best cabinet refacing Scottsdale team you can reach out to for your home, business, or commercial needs.
Before and After Cabinet Refacing Projects

This gallery features before and after pictures of our work. It includes re-faces, re-stains, bathroom projects, custom projects, and more! Some photos show projects mid-process. Feel free to request a free in-home estimate today!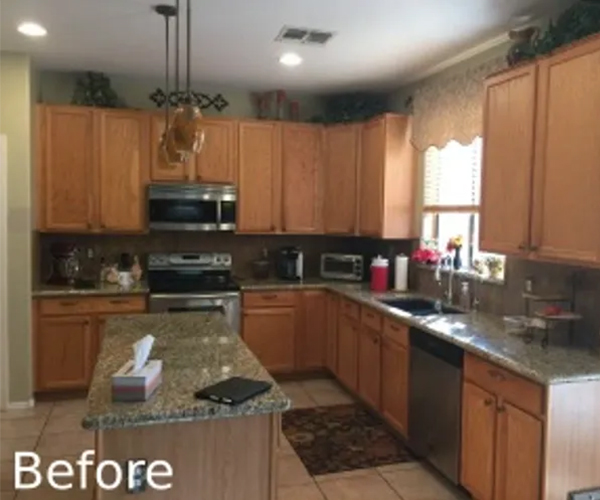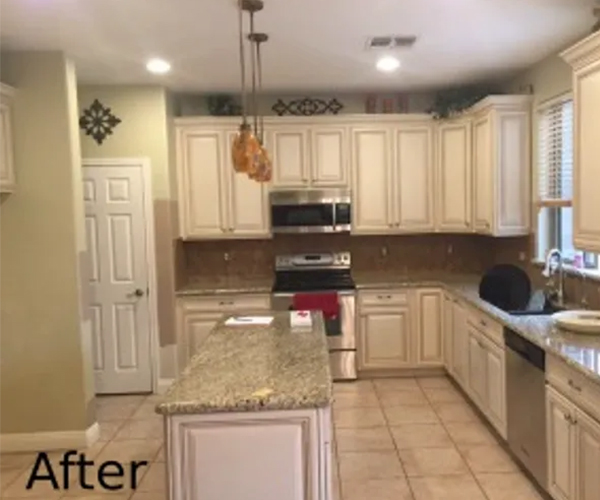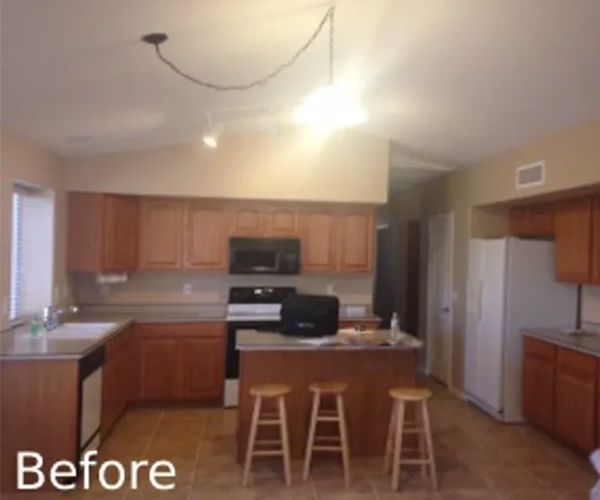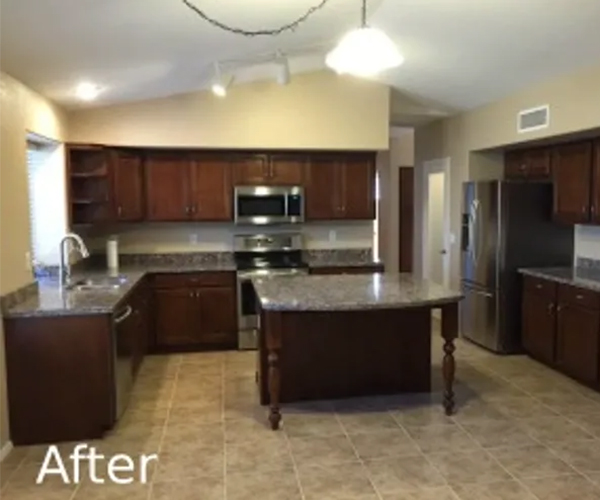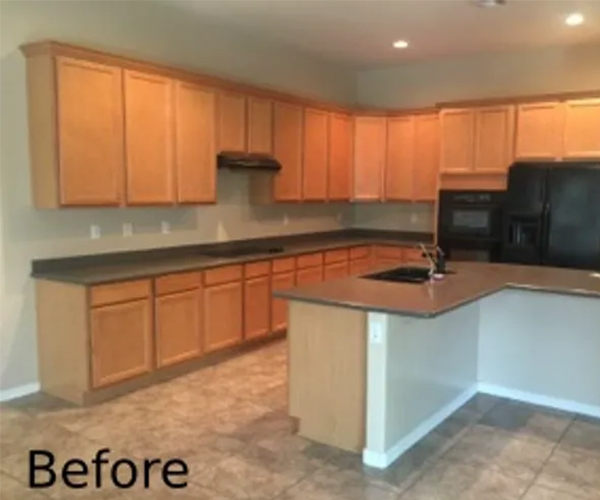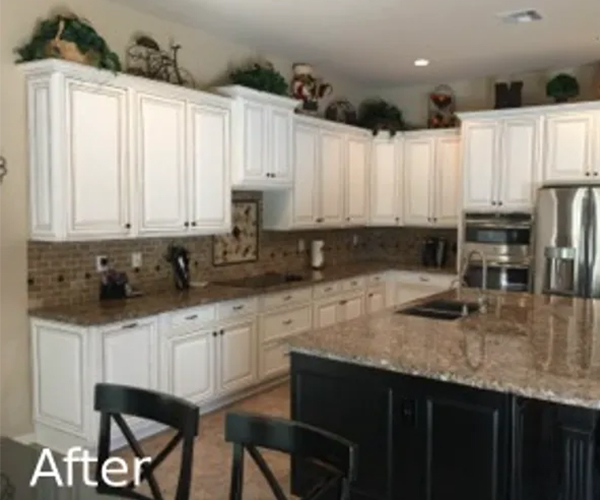 Do Refaced Cabinets Last Long?
Cabinet refacing goes a long way, especially when you're taking the right measures and extra care. It can last up to 20 years with normal usage and conditions in the kitchen, but can go even beyond this span of time.
How Are Refinishing and Refacing Cabinets Different?
Refinishing is the same with resurfacing, and both can refer to refacing. Refacing involves the replacement of all cabinet parts or surfaces that are visible.
Do I Need to Refinish My Kitchen Cabinets?
Old cabinets can be upgraded without breaking the bank. If you're going for a new look for your cabinets without the need to splurge, then cabinet refinishing is the best solution in freshening them up.
Can Repeat Refacing Be Done?
Cabinets can be refaced more than once, as they go through a certain standard. However, you have to consider a few things to avoid when doing cabinet refinishing more than once:
The structure of the cabinet has gone through extreme wear and tear
The layout of the kitchen design needs to be changed
Metal is the material used in your kitchen cabinets
About Scottsdale, AZ
Just east of Phoenix, Scottsdale in Arizona is a desert city deemed as the richest city in the whole state. In fact, its slogan reads, "The West's Most Western Town." Scottsdale is home to famous personalities such as Muhammad Ali, Steven Spielberg, and Stephenie Meyer.
Aside from being a business center where shopping malls dot the urban area, Scottsdale is a perfect place for chilling and dining, with plenty of entertainment options available for nightlife. Spa resorts and golf courses are a few of the trademarks of this busy city. Scottsdale is consistently listed as one of the best golf and resort destinations not just in the US but in the globe. The Tournament Players Club in Scottsdale is annually flocked by golf enthusiasts to witness the Phoenix Open Golf Tournament.
A rich, beautiful city in the Valley of the Sun, Scottsdale is teeming with prestigious schools in Arizona and safe suburban areas. It is common for homes in Scottsdale to be permitted for planning and development. Many residents opt for the traditional interior design and decoration to be dashed with a contemporary vibe, thus making their homes look cozy and elegant without going out of style. When it comes to this remodeling and refacing trend, cabinets tend to be the top item people fancy to refinish to suit their preferences.
Cabinet Refacing Contractor in Scottsdale AZ
Re-New Cabinets LLC holds expertise in the kitchen cabinet refacing service for more than 35 years in Scottsdale, AZ. Services offered range from planning and design of custom-made cabinets for the kitchen, bathroom, and other interior spaces.
Re-New Cabinets' founders, Robert and Arlette Lenzi, have aligned their practices in cabinet refacing and manufacturing of kitchen cabinets and cabinet doors to a higher-industry standard. Aiming to provide unparalleled craftsmanship shown in high-quality products for the satisfaction of valued customers. Come and visit the showroom that is conveniently located along the I-10 and Chandler Boulevard.
Jump-Start Your Project Today

Re-New Cabinets Scottsdale AZ
Finding the right re-facing cabinet style and color can instantly enhance interior spaces.
We make sure that our clients have everything they need, including the relevant information and range of options to suite their interior goals.