**Announcement**
We Remodeled Our Entire Showroom & Added 5 New Flagship Kitchens Displays
Licensed, Accredited, Convenient:
- Licensed, Bonded, and Insured – ROC#293053
- BBB Accredited Business with an A+ Rating
- The latest in storage solution innovation – and an authorized dealer for REV.A.SHELF
- A One-Stop Shop for your project!
Customers Come First:
Customers always come first. You will be notified with progress updates and developments regarding the status of your project. We will provide all the necessary details you need to know beforehand to help you prepare for your installation and make the process as easy as possible! Re-New Cabinets, LLC promises that we will be on-call to answer all your questions. All you need to do is give us a call, e-mail or text – whatever works best for you. Your project is our main priority, and we are here to make your space beautiful!
About Our Company: Re-New Cabinets

For over 35 years, Re-New Cabinets LLC has served the valley with its remarkable experience in kitchen cabinet refacing, including services such as custom planning & design, custom cabinets for kitchens, bathrooms and laundry, as well as countertops made of different materials, such as granite, marble and solid surface.
Robert and Arlette Lenzi, owners of Re-New Cabinets, have longterm experience in kitchen refacing, with a specialized focus on customization and functionality. We will be waiting for you at our showroom conveniently located off Chandler Blvd and the I-10!  Our main goal is to offer our customers an exceptional renovation service, with the highest quality products and craftsmanship - you are going to love your renovated space!
Cabinet Refacing Services & More
Not only do we specialize in refacing cabinetry, but we offer many other services that help transform interior spaces.
Cabinet Refacing for Kitchens, Bathrooms, and more.
We offer countless interior design options and solutions for kitchens, bathrooms, bedrooms, entertainment centers, offices - nearly every interior space available! To completely meet your expectations, we customize planning around our customer needs. Our team works directly with YOU to create the stunning renovation that your home or business direly needs. With your budget and our quality standards, your satisfaction is just around the corner. You are going to love your new space.
Before and After Cabinet Refacing Projects

This gallery features before and after pictures of our work. It includes re-faces, re-stains, bathroom projects, custom projects, and more! Some photos show projects mid-process. Feel free to request a free in-home estimate today!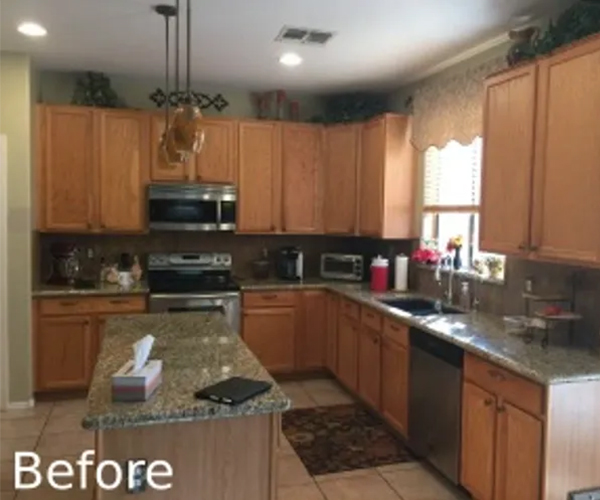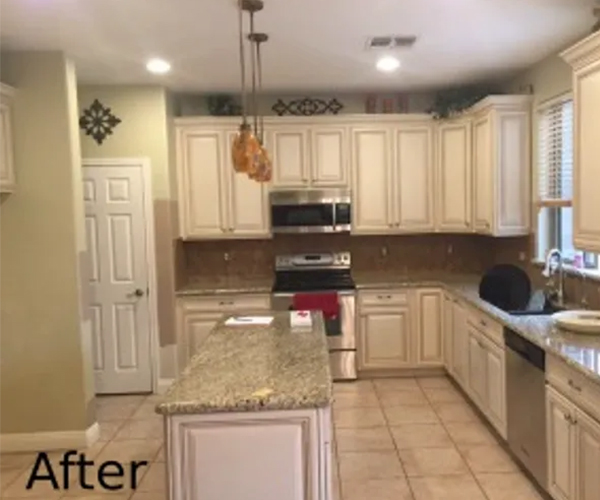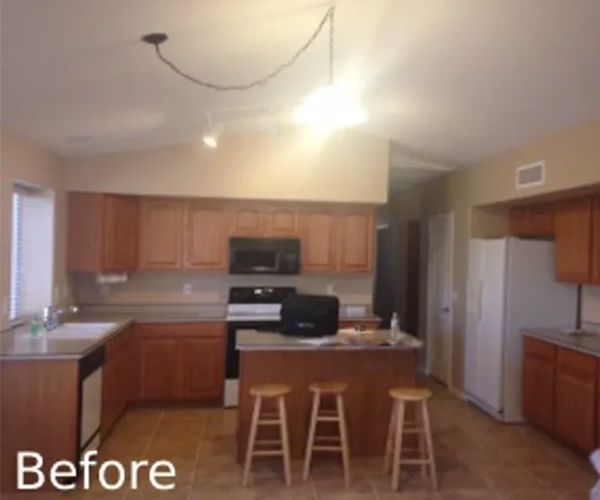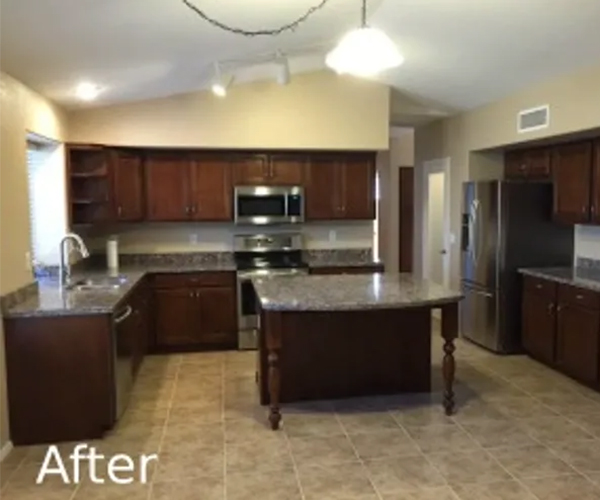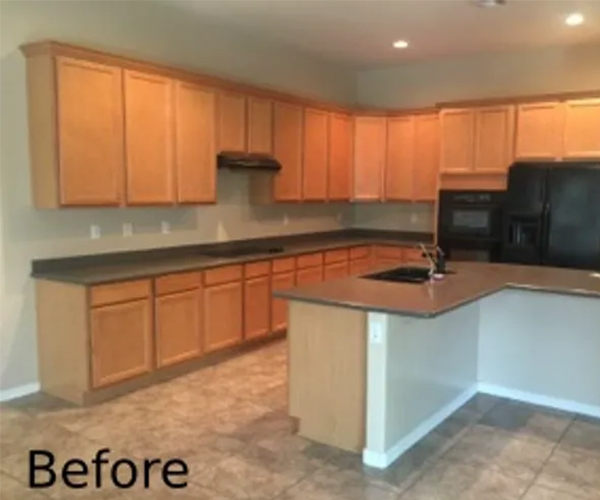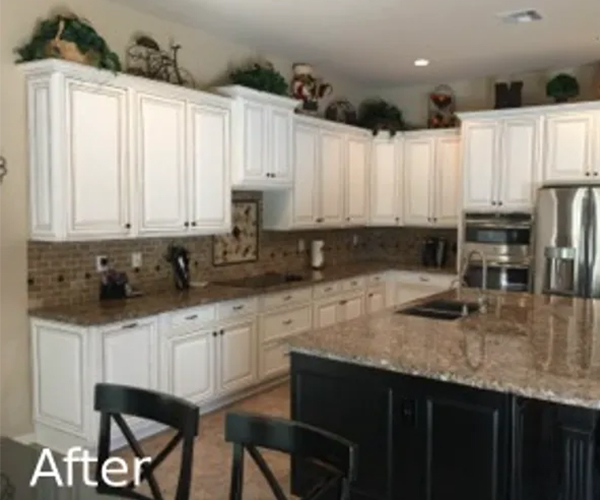 Cabinet Refacing FAQ's
How Long Do Refaced Cabinets Last?
If routine measures are taken and cabinets are treated well, cabinet refacing can last for a lifetime. You can expect to enjoy your refinished cabinets up to 20 years under regular kitchen use and conditions. Our team can educate the industry's preferred care methods to extend the longevity of each cabinet. Had an accident that caused damage? We are happy to assess the part and damage and provide a quick quote on replacement or fix.
What Is The Difference Between Refinishing and Refacing Cabinets?
Technically, cabinet refacing and resurfacing are very similar. In essence, cabinet refacing consists of replacing all the visible parts or surfaces of the cabinets when they are closed or in a non-used state. All cabinet doors, hardware, drawer fronts and even drawer boxes get replaced. With a combination of laminates or thin wood veneers, all end panels, face frames, and toe kicks are refaced as well.
Re-New Cabinets refinishing Phoenix AZ simply requires that your drawer boxes are in good condition. This is the key requirement for re-facing to take place.
Is Refinishing Kitchen Cabinets Worth It?
Cabinet refacing is a great option for those who do not want to put their kitchen through the full remodeling process. Refacing is an easy, 3-5 day process that still allows the use of your kitchen after each day. In addition, because the process utilizes your current cabinet boxes, there is much less cost involved than if you were replacing your cabinets entirely. In addition, Re-New's refacing package includes new hardware! This is another great way to update outdated cabinets. Through this process, we can help you give your cabinets the perfect color and a fresh new look that will match and enhance any living space. Just contact us today for the most experienced cabinet refinishing Phoenix AZ company!
Can Refaced Cabinets Be Refaced Again?
The process of kitchen cabinet refacing is quite classic, which allows cabinets to be refaced as many times as needed. This works great, especially if your design tastes have changed or if you are just looking to try out something new. We are here to help you reface your kitchen, so it meets your new expectations. In addition, cabinet refacing can be a great way to transform aged cabinets that have been damaged or have experienced a little extra wear.
Nevertheless, a few exceptions must be considered before trying cabinet refacing for a second time:
Your box is in bad shape and/or isn't sturdy
You want to remodel or completely change the design and layout of your kitchen
The kitchen cabinets you would like to reface are made of metal
About Phoenix, AZ
Phoenix is the capital of the southwestern U.S. state of Arizona. It is well-known for its year-round sun and warm temperatures, as well as being part of the Valley of the Sun, a multi-city metropolitan area. Its multiple options for amusement such as high-end spa resorts, designed golf courses, and vivid nightclubs make it highly attractive for tourists looking for a wide variety of daytime or nighttime entertainment. To take a look at its beautiful local nature, displaying cacti and numerous native plants, the Desert Botanical Garden is a must.
Like most cities, Phoenix is under a constant and unavoidable change, and so is everyone. We are always moving forward and following new trends – home design is no exception. Our homes are one of the main ways to express our style and feel comfortable at the same time. Nevertheless, change is unavoidable. Think about your kitchen, for example. It probably met your expectations before, but do you sometimes think it does not look like other fancy and modern kitchens in the city? Just as you renew your personal style from time to time, your kitchen cabinets could use a change too.
The best way to start a home renovation project is by changing the look of a kitchen, bathroom or laundry space. However, getting a whole new kitchen could be expensive, and in some cases unnecessary too. A service that cabinet refacing Phoenix customers have relied on for over 35 years could be your answer. Whether you want a house to be trendy and attractive for potential buyers or you wish to get a fresh, new look for your home, at Re-New cabinet refacing Phoenix, we have exactly what you are looking for.
Service Area
Chandler AZ
Gilbert AZ
Scottsdale AZ
Phoenix AZ
& Surrounding Areas
Jump-Start Your Project Today

Re-New Cabinets Phoenix AZ
Finding the right re-facing cabinet style and color can instantly enhance interior spaces.
We make sure that our clients have everything they need, including the relevant information and range of options to suit their interior goals.